Announcement
CTRL Meal On-The-Go Bars to be sold at all Belong Gaming Arenas across the United States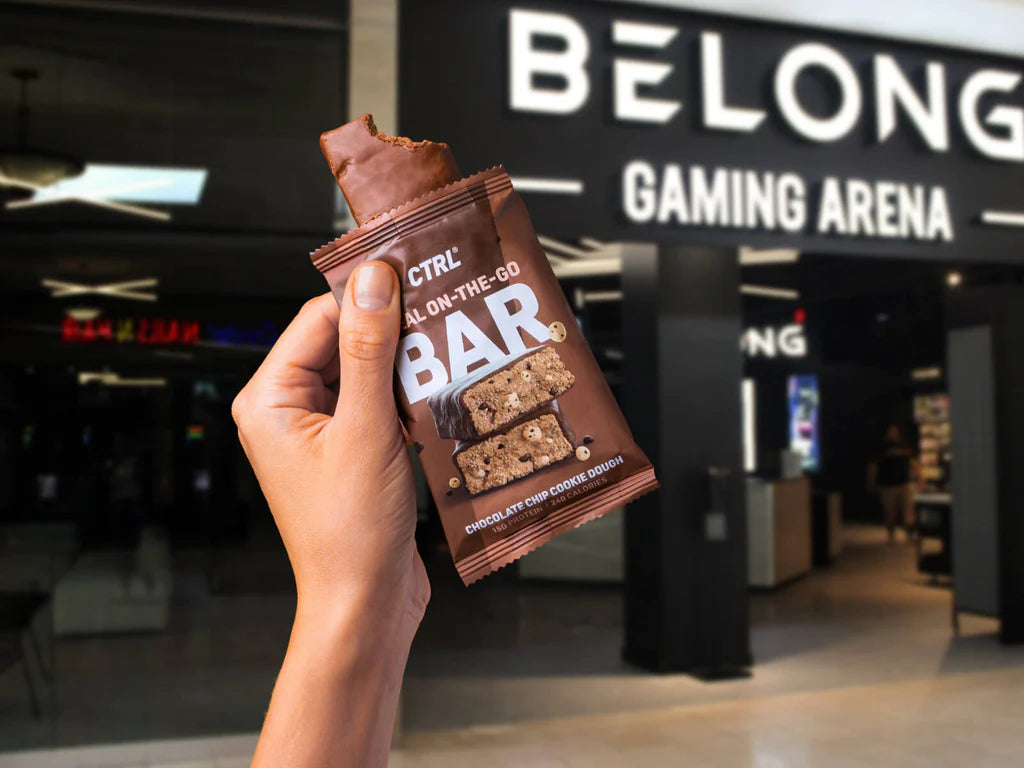 New partnership furthers CTRL's mission to make healthier options accessible to the gaming community & furthering their push for gamer health awareness.
NEW YORK, September, 2022 -- CTRL, the fast-growing meal replacement and functional food brand, today launched a new partnership with Belong Gaming Arenas, a subsidiary of global esports and technology company Vindex, that will make its Meal On-The-Go Bars available for purchase at all Belong gaming centers in the United States. The collaboration enables CTRL to increase its retail footprint, boost wellness promotion, and continue its quest to build a healthier gaming community 
Try CTRL Meal On-The-Go Bars
"The younger generation of gamers can change the deep-rooted belief that gaming is synonymous with poor nutrition and unhealthy eating habits, and that starts with focusing on healthier alternatives at an early age," said Skyler Johnson, co-founder of CTRL. "By partnering with Belong to get our bars in every arena, we can give children, families, and the gaming community easy access to nutritious options that will help form healthy eating habits that lead to healthier lifestyles."
Belong has been delivering grassroots esports experiences since 2016, connecting communities of gamers through a collection of experiential gaming centers and a digital platform. Belong has dozens of arenas across the UK and US where gamers of all levels can watch competitions, play the most popular game titles against or alongside friends, or compete in local esports tournaments.
"Our customers come to Belong for an authentic gaming experience, and that shouldn't be limited to the games they play and the equipment they use," said Bradley Smith, Director, Merchandising & Partnerships at Belong Gaming Arenas. "These bars were developed by pro gamers who sought to address a real health concern in the gaming community. By bringing these products into our arenas and introducing current and future generations of gamers to healthier options, we can instill healthy habits, enhance wellness promotion, and, ultimately, change the narrative."
Try CTRL Meal On-The-Go Bars

The Meal On-The-Go Bars currently come in two flavors – Chocolate Chip Cookie Dough and Magic Charms – and both will be sold at all U.S. Belong Gaming Arenas. Each bar has 15 grams of premium whey protein, 240 calories, 27 grams of healthy carbohydrates, and nine grams of fiber.
In celebration of this collaboration, all Belong Legends – monthly unlimited subscribers – will receive 10 free bars when they sign up or renew their membership for September. CTRL will also be presenting sponsor of upcoming competitive programming across Belong U.S. arenas this fall.
ABOUT CTRL
CTRL, which stands for Catered to Real Life, is a meal replacement and functional food brand that makes a line of nutritional and convenient meal replacement shakes and Meal On-The-Go Bars to help gamers, content creators, athletes, and anyone in between eat healthy and perform at their best while offering that "bottom of the cereal bowl" nostalgia and more. CTRL was founded by Skyler Johnson, a serial entrepreneur, former professional gamer, and founder of Team Envyus & creative agency Paper Crowns; and Major League Gaming co-founder and esports business legend Sundance DiGiovanni.
For more information, please visit drinkctrl.com or follow CTRL on Twitter, Facebook, and Instagram.
ABOUT BELONG GAMING ARENAS
Belong Gaming Arenas connects communities of gamers through its international network of experiential gaming centers and digital platform, where they come together to celebrate their love of gaming recreationally and competitively. Since 2016, Belong has provided an inclusive environment for gamers of all types to play at its locations throughout  .
Belong is a subsidiary of Vindex, the leading global esports and technology company that serves as the connective tissue between games and gamers.
LOCATIONS
- Franklin, TN
- King of Prussia, PA
- Pearland, TX
- Grapevine, TX
- Colombus, OH
- Schaumburg, IL